"Snow", that is the word I would use to describe my arrival to Severodonetsk. Already on the train that goes through the very heart of Ukraine and cross it from one half to another, I could see the changing landscape, from a very warm autumn to the sudden harsh winter, or at least harsh for me since my native city in Spain has an average of 20 Cº in winter. "Welcome to Donbass" that was what my coordinator Sasha said when I ask her about the weather, and I think it was a pretty good answer.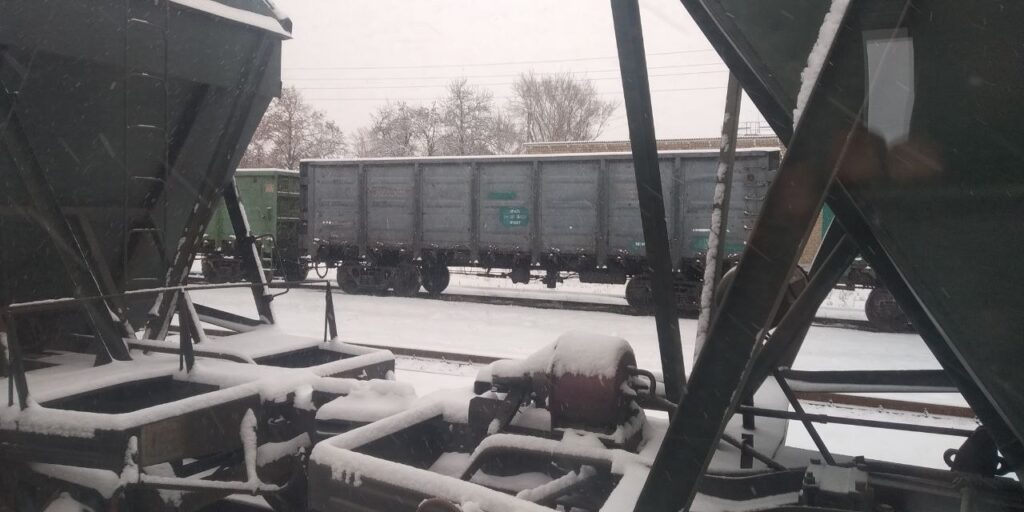 Crossing Ukraine by train
The weather was cold, but I had a warm welcome from the team, and this coldness stayed for not long as I started to work and organize activities soon. One of the first things I did was to discover the city with a camera on hand, trying to capture the real "soul of Severodonetsk" and its different faces as part of the project "Humans of Ukrainian", and to be able to assist the team in the delivery of materials to rebuild destroyed homes, this gave me an opportunity to see one of the biggest challenges that affect the local population.
Children play on the central square, while elder woman weeps about her lost the house due to fire.
On the education topic, firstly, I visited school Nº5 where I met a very interesting group of teenagers, we got the opportunity to know about each other. I introduced myself, my mission here, and a bit about Spanish culture, we also spoke about our interests, hobbies, and ambitions. I have to say I'm very impressed by the creativity and interesting topics we shared together, now we continue doing activities and games to improve not only speaking but also other very important social skills like teamwork and self-confidence. We almost replicate the famous babble tower (but tastier)!
Teamwork activities in School Nº 5
Then I got to visit the Lyceum №16. Where the welcome couldn't be better, the teenagers are very active and they introduced their passions and expectations, as well as asking lots of questions and sharing interesting and funny facts about Ukrainian culture. The next lessons we did some activities on one of their favorites hobbies, debating, where they were put on a fictional scenario where they should express their ideas to escape a desert island, very fun indeed!
Creative public speaking in highschool
In addition, we started the languages clubs in the office for both Spanish and English languages, which was a huge success, lots of interested people were calling to get one of the few available places. With a similar scope to the schools, we had a lot of fun while speaking about ourselves and learning new words and funny expressions. We even had the chance to show our creative side and draw each other, making Picasso and Dali tremble with pride.
Spanish Club
So, my first month couldn't have been better, even with all the challenges to come to live in a different country and even more in a warzone. I was able to do quite a lot of things, to meet very interesting people, both locals, and internationals, working in different organizations. I'm very looking forward to continuing and do even more activities and getting to know more about Ukraine, the country that now I call home.